Season after season, your derbies may be getting tired, used and overused with all your outfits – bored with them? Don't worry, giving them a second life is super easy! Dig out the DIY kit, here are some easy tips to redecorate your loyal derbies and see them under a whole new light!
Forget classic derbies: we now know that oxfords and brogues come in a huge variety of funky styles! Glitter, fringes, leopard prints and metallic tones, we've strayed far from the clean and preppy shoe.
Are you a big fan of derbies but can't (or don't want to??? We wouldn't understand, but hey, no judging here) go on a nother shopping spree? Here are tricks to satisfy your every funky oxford desire: these three super quick and easy customisation ideas should make you want to wear your good ol' derbies again 🙂
Solution n°1) Add fringes
The good news here is you could also apply this to your ol' trainers: pimp you derbies with little fringe rows to change their look completely! First option: Go full DIY and make your leather fringes yourself… or search on Etsy or Amazon for pre-made ones. All you have to do is slip them on your laces!
For the DIY option, just cut out some fringes in leather strips with fabric scissors, p
unch holes and slip on laces. Pretty easy huh (apart from the whole "even and symetrical" aspect!)?
Gold leather, glittered, leopard print, galaxy pattern, white… You pick, according to your mood and the colour of your shoes! And don't hesitate to have a few fringe rows in stock – they are so easily interchangeable it would be a shame not to!
2) Glue some glitter
Your derbies are not as crazay as they used to be but you don't want to throw them away? Give them a second life with a bit of glue and lots of glitter! From the heel to the laces, or on a specific area, knock yourself out and throw some outfit-brightening glitter on there!
Start by defining the glitter zone with masking tape, then apply fabric glue with a brush and throw the glitter on and let the dazzling begin! Wait until it is fully dry and tadaa: your derbies look straight out of the shop and ready to dance in the streets.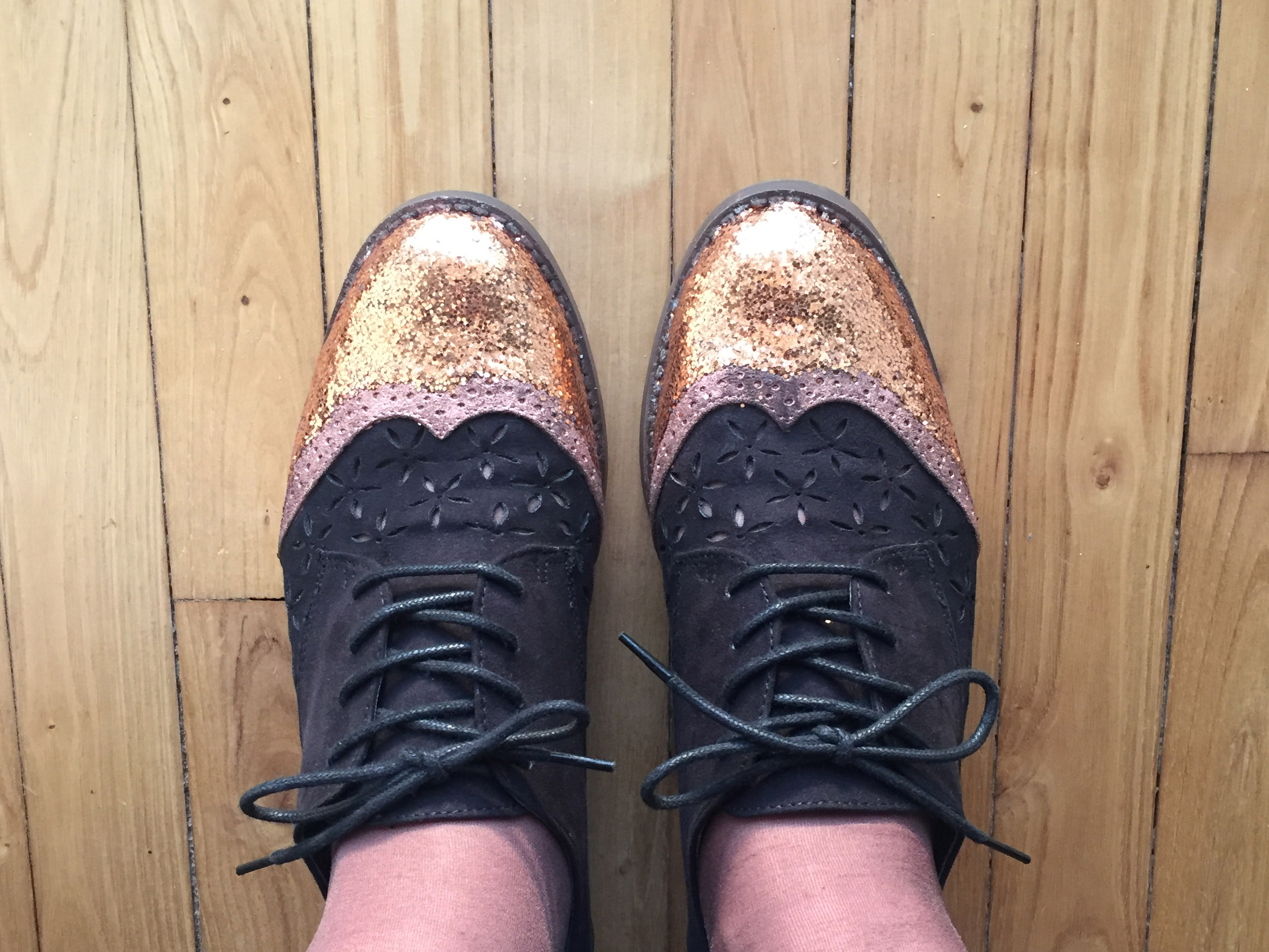 3) Paint the outsole
We hardly ever think about it, but the outsole is a very important detail on a shoe! By painting it with a nice bright colour, you can breathe youth back into your deary derbies! A slightly sad grey pair can quickly be transformed into a super stylish icon shoe with a nice blue outsole for example!
To pimp your shoes, just buy a small pot of leather paint, define the to-be-painted area with tape (it would be a shame to overflow) and apply several layers – waiting for full drying in between – until you get a nice solid result. Seduced yet?