Sunshine is finally showing the tip of its soft warm nose! And when you think sunshine and ultimately (one day) summer you think… espadrilles. Despite what many may think, these canvas and rope shoes born in the Pyreneees  are not only made for holidays and sandy beaches: follow our tips and tricks to wear the Basque shoe in the city…
If we say espadrilles what do you picture? The south, sunshine, farniente and tapas? You've got it right: the espadrille came straight from the sout-west of France and the Catalan Countries, where life is sunny and pleasant. Originally, espadrilles were part of the traditional Basque costume which was worn to dance the Sardane (where everyone joins hands to dance in a circle) (we googled it) but these little canvas and rope shoes left the round of dansers to seduce the hearts of holiday goers and locals alike. Convenient, comfortable, light… the espadrille is the perfect holiday shoe: it's modest, robust and easy to slip on and off to go and run in the sand. As its origins suggest, it smells like conviviality and joy. What more do we want?
Espadrilles, sunshine and farniente
Long assimilated to straw hat tourists and southeners, the espadrilles were often disgarded as "cheap" holiday shoes. But how things have changed! For the past few seasons, the espadrille has appeared in millions of colours, styles and prints that transformed it into a huge style staple – a practical one too.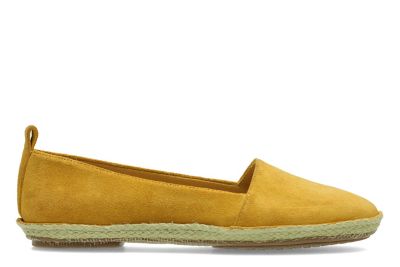 Check out your favourite high street and web shops for pairs galore in a huge variety of styles and prices, from La Redoute to Clarks, Asos, or Net-a-porter for luxury takes on the modest shoe.
How do you wear espadrilles when not on the beach ?
We probably all have that pair of slightly dodgy espadrilles bought on the market for £4 on a suddenly sunny day, with a faded canvas and shredded string: We're not afraid to wear these in sand, heat or salty water, and to drag them around all day and all night long.
The "destroyed" espadrille is convenient for holidays, camp sites and gardens, but it's a bit borderline when it comes to walking around town, strolling in the pier or having al fresco drinks. And enter the espadrille in the city! Navy stripes, patterned outsoles, leopard prints, ankle laces, gold canvas… There are so many styles, all as chic as you'd hope.
Outfit wise, think of your espadrilles as a pair of sandals or trainers: wear them with absolutely anything for a casual and comfortable look. With a flat sole or a slightly wedged one, it's assured comfort all day long.
Dresses, boyfriend jeans, shorts, pantsuits, dungarees… they adapt to every style and age. Ok so maybe don't go with long black skirt + white shirt + black shrug, that is slightly too reminiscent of the traditional Basque costume. But pair them with a preppy chino, a fluid dress or some short shorts, and they are a definite safe bet!